The following is a brief history of one of Hawaii's most famous crops, Coffee. The coffee trees were brought to Hawaii in the early 1800's. These amazing trees were initially planted in Monoa Valley on Oahu, and then were introduced to other parts of Oahu and neighboring islands. By the 1930's there were more than 1,000 farms. Currently there are over 6,500 acres in coffee statewide and annual production is 6 to 7 million pounds green beans. There are numerous varieties of coffee grown throughout the state. The most common variety is Typica which is grown on the Big Island, Oahu, Maui and Kauai.

Coffee trees usually flower around February and March. However, our Puna trees are known to flower multiple times during the year starting in May. Small white flowers cover the trees like snow. Typically the green berries appear one to two months following the flowering. Two to four months later, red fruits called "cherries" start to ripen. We hand pick the cherries from each tree in order to harvest only the ripest beans to achieve the most optimum tasting coffee. The coffee bean cherries are then put through several stages in order to prepare them for roasting. The first stage of processing is the pulping, unless it is our Puna coffee which is put through a "Honey process". Otherwise, the fresh picked coffee cherry, is run through a machine that removes the pulp from the beans and is then added to a fermentation tank which takes approximately a day or two. The beans are then rinsed and spread to dry naturally on drying racks under the sun. When the coffee is properly dried, it is called "parchment" and is ready for storage or the next stage of processing which is hulling. The hulling machine removes the final layer off the coffee bean, a gravity table then separates out the lessor quality beans, leaving the most premium coffee beans ready to be roasted and enjoyed in your cup.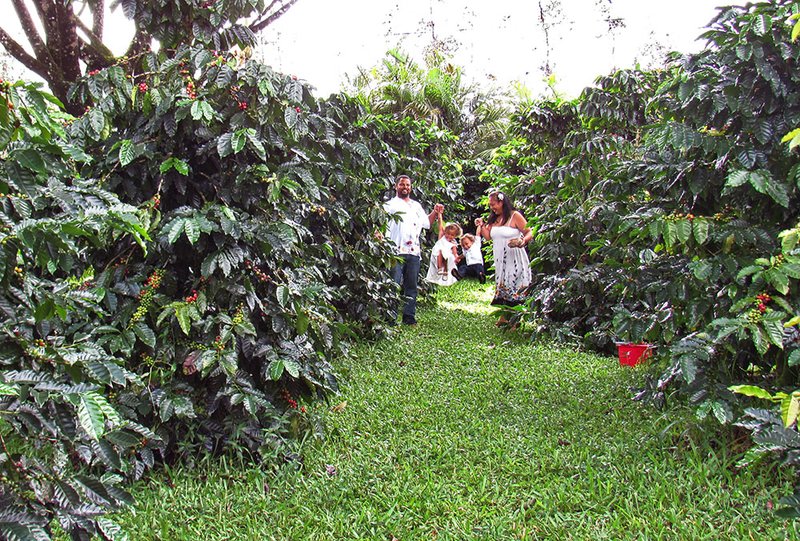 We at Divine Hawaiian Coffee pride ourselves in only growing and purchasing the highest quality coffee from farmers around the islands, ensuring a true Divine Hawaiian Coffee experience. Please feel free to look around at our different products and sizes.
Our coffee is available in the following sizes 1lb, 7oz, and 3oz bags.
Mahalo for choosing Divine Hawaiian Coffee!